Make Your Own Photo Collection of The Pier's Fantastic Public Art
The St. Pete Pier is nothing if not photogenic. So how about trying a fun, easy exercise the next time you visit? Set selfies aside for a few minutes and point your camera toward the magnificent public art that has been strategically placed throughout the 26-acre park to enhance the overall experience.
Snapping pics will make you stop, look and really appreciate the eclectic collection of works. The City of St. Petersburg committed $2 million toward commissioning the pieces in hopes that visitors like you will do just that.
Here's an itinerary for your shoot, including a bit of information on each artwork:
Let's get off to a colorful start. Just past the Pier entrance on the main promenade you'll encounter "Myth (Red Pelican)" by Los Angeles artist Nathan Mabry. The 10-foot-high sculpture—an interpretation of the city's signature bird—is a large red origami-shaped pelican. But just so there's no doubt, two small, realistic pelicans sit atop the main structure, and, for a little extra whimsy, two others are perched on the ground roughly 20 feet in opposite directions. We dare you not to smile.
Now for the main attraction. Walk a little farther down the Pier and look to your left. You're exPIERiencing Janet Echelman's incredible "Bending Arc," a billowing net sculpture that allows the wind to gracefully shift its shape. "The sky is the canvas for my artwork," says Echelman, a Tampa native. "Bending Arc's" netting is as vast as it is beautiful, measuring 72 feet at its highest point and covering 47,500 square feet. Creating it required 180 miles of lightweight fiber and 1,662,528 knots (we don't recommend counting them yourself.)
If the breeze is up and the Arc is really billowing, switch your camera to video and catch a few seconds of art in motion. A circular array of Adirondack chairs are stationed right underneath, so sit, relax and be mesmerized. Taking a photo from directly beneath creates an artsy effect. Be sure to return at night sometime to view "Bending Arc" in the dark, when it glows with magenta and violet light.
Let's head to the southern side of the park for a few snaps of Benoist Plaza, which commemorates the first commercial plane flight. The centerpiece is a gleaming silver, life-sized sculpture of the Benoist (pronounced Ben-Wah), a bi-plane that pilot Tony Janus flew round-trip to Tampa on Jan. 1, 1914. He's portrayed in the sculpture, along with then-mayor Abe Pheil, who paid an astronomical $400 to be the only passenger. This amazing piece of art – and history – was created by Mark Aeling and his crew at MGA Sculpture Studio in St. Petersburg's Warehouse Arts District.
Time for some vivid color, this time a dazzling mosaic called "Morning Stars" by Xenobia Bailey. The piece — 23 feet wide and 7-and-a-half feet tall — covers a wall across from Pier Plaza and the Splash Pad. The work uses small tiles to create circles called mandalas and other geometric shapes.
Just as you reach the Great Lawn, before the Pier Point building, you'll find "Olnetopia," by Belgian artist Nick Ervinck. This abstract sculpture, bronze with an aqua-colored patina, has been described by the artist as an organic form "linked to the hollowed rocks and wild waters." It's a striking piece, and rather than trying to describe it, we encourage you to photograph it and make your own interpretation. Let us suggest that for one angle you move back a bit and let "Olnetopia" share a few frames with the Pier building and the waters of Tampa Bay.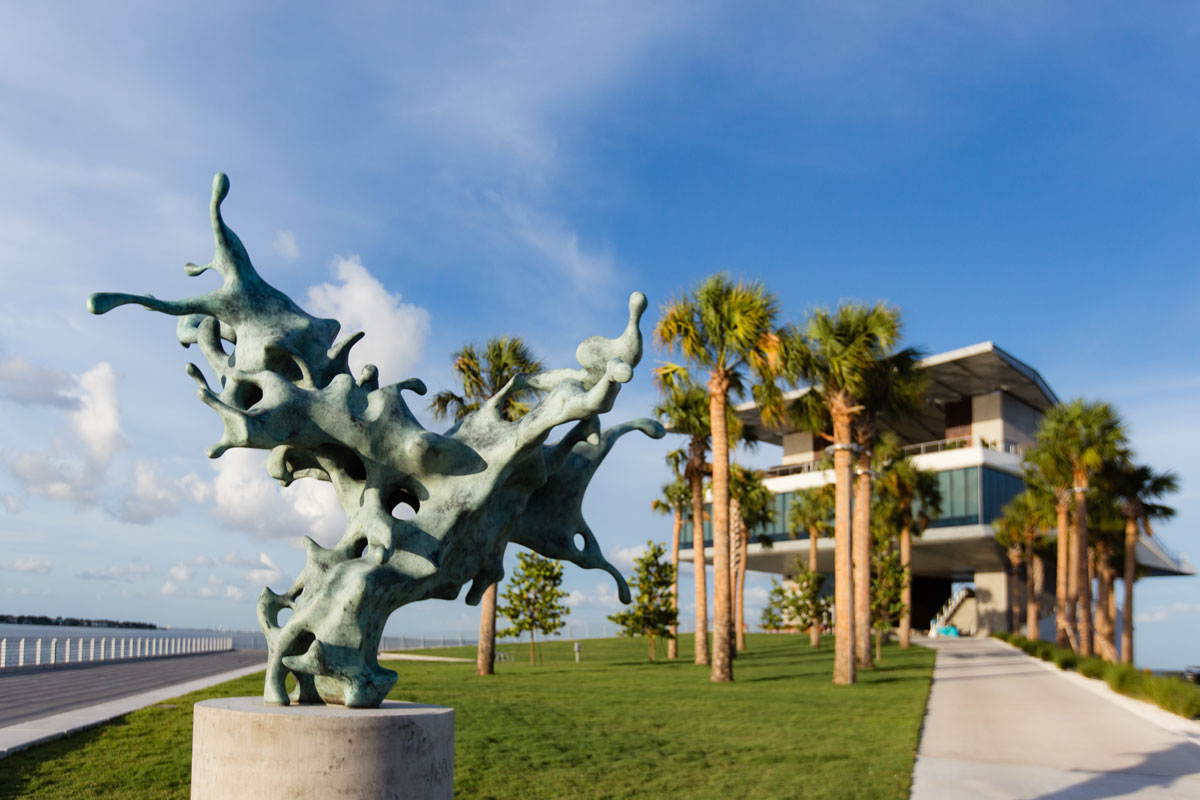 Your photographic collection of public art at the St. Pete Pier is now complete! But don't leave without adding a few additional images to your photography project. Point your camera eastward to get a panoramic shot of the bay. Look to the north to capture the beautiful boats in the marina. Finally, look back westward and grab some shots of the incredible St. Pete skyline.
If those views aren't public works of art, we don't know what is.