Legend
Gateway
'Myth' by Nathan Mabry
Fresco's Waterfront Bistro
St. Petersburg Museum of History
The Marketplace
Family Park
'Bending Arc' by Janet Echelman
St. Petersburg Municipal Marina
Glazer Family Playground
Spa Beach Park
Spa Beach
Spa Beach Bistro
Splash Pad
Pier Plaza
Cultural Grove
'Morning Stars' by Xenobia Bailey
Benoist Centennial Plaza featuring the World's First Airline Monument
Courtesy Docks
Bayfront Health Tilted Lawn
St. Pete Pier Operations Offices
Doc Ford's Rum Bar & Grille
Coastal Thicket
Tampa Bay Watch Discovery Center
'Olnetopia' by Nick Ervinck
The Great Lawn
Rooftop - Pier TeakiLevel 4 - TeakLevel 2 - Driftwood CafeLevel 1 - Pier Gear & Gifts + Gator Jim's Tackle
Fishing Deck
The Point
Johns Hopkins All Children's Hospital Tram Stops
Parking Lots
Splash Pad
« View »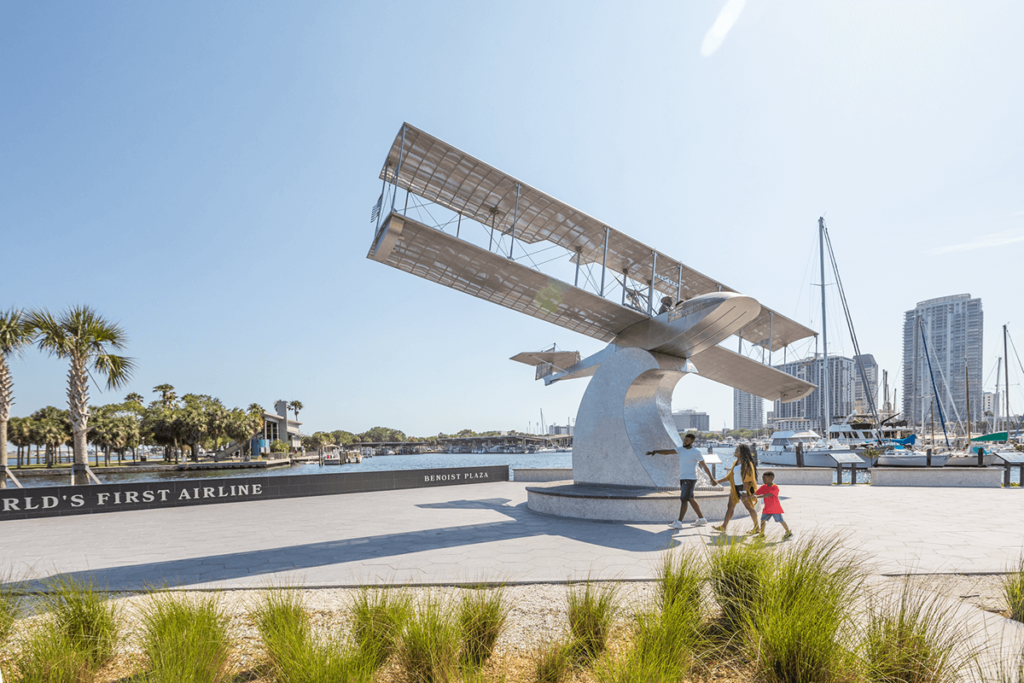 First Airline Monument
« View »
Discovery Center and Wet Classroom
« View »
Bending Arc
« View »
Fishing Deck
« View »
Glazer Family Playground
« View »
Pier Point Restaurants
« View »
Doc Ford's Rum Bar & Grille
« View »
Walking Waterfront
« View »
Bioswale and Picnic Area
« View »
Marketplace
« View »
Pier Plaza
« View »
Spa Beach
« View »
Coastal Thicket
« View »
Splash Pad
Keep the kiddies cool — and tire them out in the process. At the Pier Plaza, visitors will find an interactive water feature that is both a fountain and a splash pad, with big and small vertical water jets. On warm days — and there are quite a few in this part of Florida! —  the area will be populated with frolicking youngsters. Of course, parents and grandparents are welcome, too. After a good soaking, visitors will be able to retire to the adjacent Bayfront Health Tilted Lawn to dry-off under the sun and catch a breath. Nearby shade trees are in abundance, along with a covered pavilion to enjoy snacks and cold drinks.
First Airline Monument
St. Petersburg is the birthplace of commercial aviation, so it's appropriate that we commemorate that history in a suitable way. The Benoist Centennial Plaza (it's pronounced "Ben-wah," by the way) features a life-sized sculpture of the Benoist Airboat that pilot Tony Jannus flew on the first airline roundtrip to Tampa on January 1, 1914. His only passenger that day? St. Pete Mayor Abe Pheil, who paid a then-astronomical sum of $400. Fun historical fact: The exhibit is located on the exact same spot as the hangar used for the World's First Airline.
Discovery Center and Wet Classroom
This must-experience facility is operated by Tampa Bay Watch, a highly respected environmental organization dedicated to the protection and restoration of the Tampa Bay estuary. Located on the over-water walkway approaching the Pier Point, the Discovery Center presents all you need to know about Tampa Bay's unique ecosystem in a way that's entertaining and hands-on.
From the outset, the city of St. Petersburg was committed to making the Pier both fun and educational. That's why we're proud to welcome the Tampa Bay Watch Discovery Center to the new St. Pete Pier. Established in 1993, Tampa Bay Watch is dedicated to the protection and restoration of the Tampa Bay estuary through scientific and educational programs. The new space at The Pier is a must-see for people of all ages, offering interactive exhibits, video presentations, a touch tank, and docent-led tours. The center also houses a classroom space and an open-air wet classroom perfect for school field trips and summer camps. The wet classroom is bordered by walkways with railings and includes a covered observation deck.
Contact: (727) 291-4103
Hours: Mon-Fri 10:00AM to 5:00PM | Sat & Sun 10:00AM to 7:00PM
Admissions
Adults (Age 13-61): $5
Child (Age 4-12): $3
Senior (Age 62+): $5
Toddler (3 and under with an adult): FREE
Active Military (with ID): $3
Florida Teachers (with ID): $3
Bending Arc
Internationally renowned artist and Tampa Bay native Janet Echelman has created one of her famous billowing net sculptures to dazzle Pier visitors. "Bending Arc" measures a massive 76 feet at its highest point and 428 feet at its widest and is perpetually in motion with the wind.
Janet Echelman, who grew up in Tampa and was educated at Harvard, has several of her billowing net sculptures in prominent places around the world, including one in Seattle commissioned by the Bill and Melinda Gates Foundation. The Guggenheim Fellow's artworks meet at the intersection of sculpture, architecture, urban design and engineering, and are often on the scale of buildings and city blocks. They are revered for their ability to move and shape-shift in response to their natural surroundings. The hypnotically immersive "Bending Arc" — 76 feet at its highest point and 428 feet at its widest — required 84 miles of twine and more than a million knots. It represents Echelman's largest permanent artwork to date in a portfolio that includes huge pieces in San Francisco, West Hollywood, Phoenix, Philadelphia, Porto, Portugal and elsewhere.  In all, her work has been installed in 38 cities on four continents.
Fishing Deck
Dropping a line into the water has been a tradition at the St. Pete Pier since its earliest days in the late 1800s. The new Pier has a dedicated Fishing Platform built on caissons leftover from the Inverted Pyramid Pier, inviting you to get closer to the water — and the fish. Walk down a small set of steps to a spacious deck that accommodates a multitude of people enjoying one of St. Petersburg's favorite pastimes in the fish-fertile waters of Tampa Bay.
Feel free to bring your own rods, reels, bait and tackle, but don't fret if you want to fish on a whim. Gator Jim's Tackle at the St. Pete Pier provides everything an angler could need — gear, tackle, nets, a large variety of bait and more. Pier Gear & Gifts also offers brand-name sunglasses, jewelry, sundries, beach clothing and supplies, and art by local artists.
Glazer Family Playground
At the nautical-themed Glazer Family Playground, you'll find an expansive, colorful playground conceived by one of North America's premier playground designers. Your little ones can burn off energy on slides, swings, climbing structures, kiddie obstacle courses and activity nodes, and more. This area is conveniently located between the Bending Arc Sculpture and Splash Pad
Pier Point Restaurants
You just might find you've worked up an appetite, or thirst, when you reach the Pier Point. Teak, a fine restaurant named after a fine tropical hardwood, is the marquee eatery in the elegant building at the end of the Pier. Located on the fourth floor of the Pier Point structure, Teak offers upscale dining imbued with a Florida flair, and lovely views of Tampa Bay and the ever-growing St. Pete skyline. Up on the roof, you can kick back at Pier Teaki, a modern take on the classic tiki bar. At ground level, there's the Driftwood Cafe, rising nine feet from the Pier Point deck and connecting to the tilted lawn. It's a casual walkup spot offering ice cream and snacks. These three places have the same local ownership as the nearby Birchwood, one of of Beach Drive's hottest spots and home to The Canopy, St. Pete's premier rooftop lounge.
Doc Ford's Rum Bar & Grille
Of all the places you can grab a bite on The Pier, Doc Ford's Rum Bar & Grille is where you're most apt to find a party. The 10,000-square foot restaurant/bar serves authentic Florida fare and flavors from throughout the Caribbean Rim. A wildly successful destination restaurant with three other locations just south of Tampa Bay, Doc Ford's takes its name from the main character in over 20 Florida-themed novels by best-selling author Randy Wayne Wright.
Walking Waterfront
This Pier was made for walkin'. A continuous sidewalk and large pedestrian path allows for all the scenic strolling you'd ever want. You'll start with terrific views of the St. Petersburg Municipal Marina, its array of majestic boats and the city waterfront, loop south past Doc Ford's restaurant and then to the Pier.
Bioswale and Picnic Area
Just past the Pier Approach, the "Bioswale" is one of the many eco-friendly aspects of the new Pier — and a tree-populated park that's ideal for a picnic. With lots of seating and shade, not to mention plenty of grass and flowers, this area is a charming little world unto itself. It overlooks the North Basin facing toward Vinoy Park and the Vinoy Renaissance Resort. The Bioswale/Picnic Area is also home to smaller events.
Marketplace
Located just past the Pier's Gateway, the Marketplace features an array of independent vendors selling unique items in kiosks and under 10'x10' tents. A solar roof structure provides shade as you browse the selections and meet the sellers.
St. Pete's buy-local culture is represented in this lively bazaar, just a short walk past the Pier's Gateway. Area vendors showcase and sell their wares in kiosks and beneath 10-by-10-foot tents. Shoppers can browse under a solar roof structure that provides ample shade. The Marketplace features a cast of vendors selling an array of products, many with a local flair.
Pier Plaza
This inviting entry point to the St. Pete Pier features a stylish structure to provide shade and comfort, as well as a cafe that offers grab-and-go food items, as well as other healthy, interesting and more traditional food selections. The Pavilion is surrounded by colorful tables and chairs, so you can munch on a snack, sip a drink, enjoy good times with friends and family, or just exhale and enjoy the view. At the Pier Plaza, visitors will also find an interactive water feature that is both a fountain and a splash pad, with big and small vertical water jets. Perfect to keep the kiddies cool–while tiring them out in the process. 
Spa Beach
Downtown St. Petersburg finally has a true beach it can be proud of! Spa Beach has been expanded and given a naturalized shoreline, and you can easily get here on foot from anywhere along St. Pete's gorgeous downtown waterfront. Beach volleyball and other activities abound, and kayakers and paddleboarders can easily launch from this area. If you're a visitor staying downtown, you can now get sand between your toes without having to drive across town to the Gulf Beaches.
Coastal Thicket
If there's one thing you need in Florida, it's shade. Fortunately, the new St. Pete Pier was designed to provide shade in spades. The Coastal Thicket, which runs along the north side of the Pier, invites you to take a relaxing walk or bike ride through an oasis of native Florida plants, trees and shrubs. Vegetation includes large trees like the wax myrtle, myrtle oak and white buttonwood, as well as sabal palms, palmettos, sea oats, and native grasses. The ADA-compliant boardwalk starts north of the Pavillon and runs all the way to the Pier Point — and it's illuminated for evening strolls. Even though the Coastal Thicket is a shady canopy, it lets in plenty of sun. This stretch of the Pier is ideal for getting outside in the hot Florida summers. And it only gets better in spring and autumn!